SOAR's 35th Annual Conference - The Administrative Forest: Pathways to Justice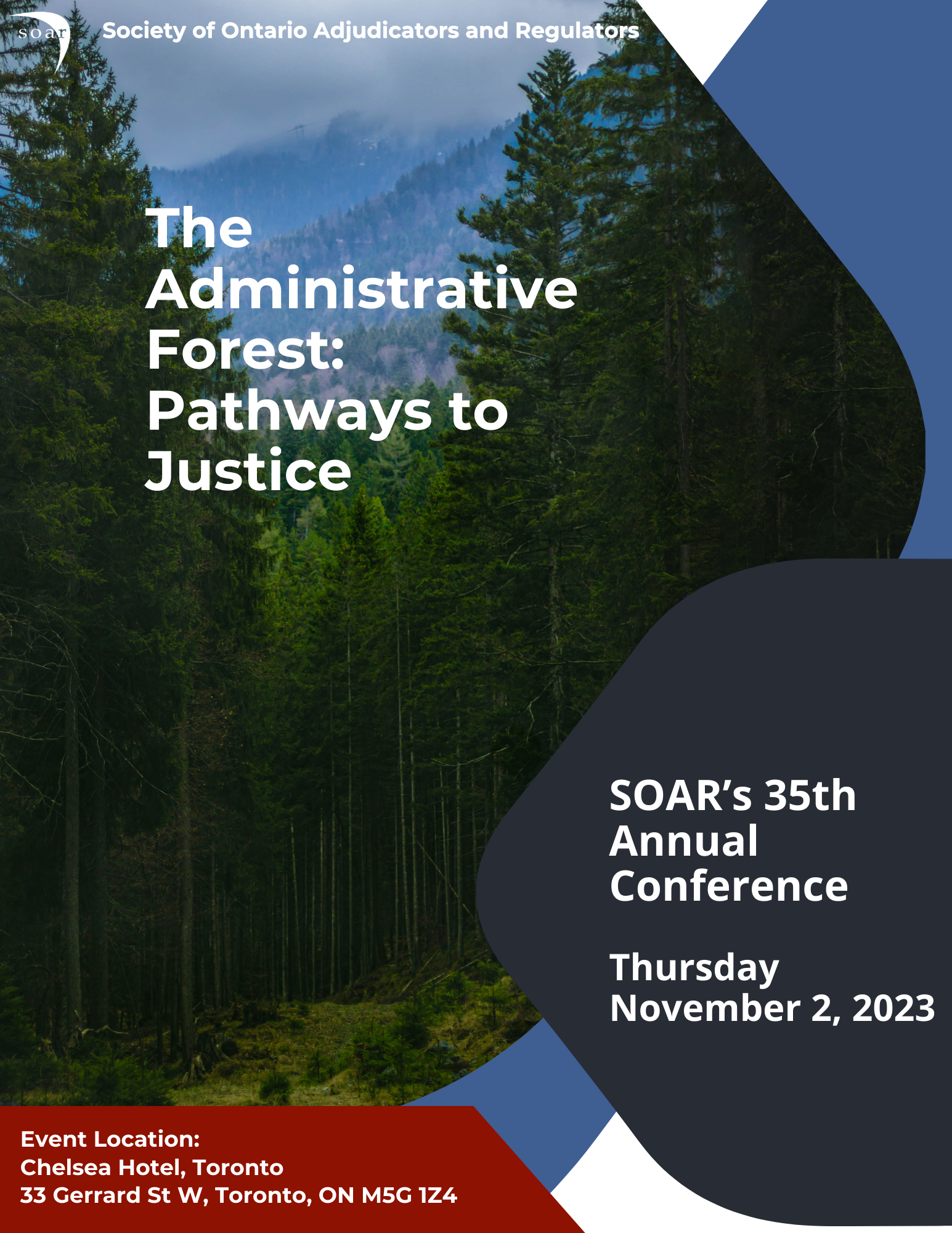 SOAR'S 35th ANNUAL CONFERENCE (In-Person Only) 
Registration is open and will be limited!
The Administrative Forest: Pathways to Justice 
Thursday November 2nd, 2023 8:30am - 4:30pm
Chelsea Hotel
33 Gerrard Street West, Toronto
$495.00 plus HST
Don't delay your registration - the 35th Annual SOAR Conference is back on November 2nd, 2023!
For over 3 decades, SOAR's annual conference has been the pre-eminent event for adjudicators and regulators across Ontario to connect, network and discuss topics relevant to working in the administrative justice community.  We are very excited to be back in-person (after 3 years online) for this year's 35th annual conference. 
"The Administrative Forest: Pathways to Justice" will focus on the evolution of administrative law and systemic issues in the adjudicative and regulatory sectors. We will be exploring pressing topics, such as working with interpreters, using plain language and technology to enhance users' understanding and experience, tribunal innovation for greater independence, updates in administrative law, respectful engagement with indigenous communities and the impact of AI on administrative justice.
Join us to consider what has stood the test of time, lessons learned and forging new paths forward.  We can't wait to see you at one of our 4 workshops and 3 plenaries. As usual, we'll offer a buffet breakfast, a hot lunch, snack breaks and a networking reception!
8:40-9:00 a.m.
Welcome from 2023 SOAR CONFERENCE CO-CHAIRS
CAROLYN GORA, Director, Professional Conduct, College of Nurses Ontario
PREEYA SINGH, Director of Professional Conduct, General Counsel & Diversity, Equity and Inclusion (DEI) Officer, College of Audiologists and Speech-Language Pathologists of Ontario (CASLPO)
Indigenous Ceremonial Welcome 
JOANNE DALLAIRE LL.D, Elder and Senior Adviser, Indigenous Relations and Reconciliation, Toronto Metropolitan University
9:00a.m.- 10:20a.m.
-------OPENING PLENARY-----
A JOURNEY THROUGH THE ADMINISTRATIVE FOREST
At the start of our journey today, we invite you to think of the administrative justice system as a forest.  Instead of a forest that provides fruits or nuts or lumber to the surrounding population, this forest was planted to provide justice.  How has this forest evolved over time?  What are the challenges to its health and sustainability?  How does it need to evolve in the future in order to fulfill its purpose?  A Panel of experts in administrative justice will guide us, as we consider these questions through various lenses:  fairness, accountability, equity, diversity, inclusion and more. 
Eligible for 1 hour and 15 min of Professionalism CPD Requirement
MODERATOR: LINDA GEHRKE, Vice-Chair (Part-Time), Workplace Safety and Insurance Appeals Tribunal
SPEAKERS:
PAUL DUBE, Ombudsman Ontario
IRWIN GLASBERG, Ontario Fairness Commissioner
DR. ŞULE TOMKINSON, Associate Professor, Department of Political Science, Université Laval
------------------------------------------------------------------------------------------------------------------
10:20-10:35am MORNING BREAK
10:35-11:50 a.m. CONCURRENT WORKSHOPS
WORKSHOP 1
LOST IN THE WOODS: WORKING WITH INTERPRETERS AND TRANSLATORS
This session will explore language and working with translators and interpreters to support access to justice. Topics will include modes of interpretation and translation (consecutive/simultaneous interpretation, sight translation), certified versus non-certificated interpreters and translators. We'll provide case examples and best practice tips regarding how to access and work effectively with interpreters in different settings and processes to improve outcomes.       
MODERATOR: CECILE LANDON, Dispute Resolution Officer, Landlord Tenant Board, Tribunals Ontario
SPEAKERS:
STELLA CONSTANCA, Interpretation Services Manager, MCIS Language Solutions
CHRISTOPHER DESLOGES, President, Toronto Sign Language Interpreter Service
MADDY HEARNE, CEO, First Class Conference Facilitation
Eligible for 1 hour Professionalism CPD Requirement
WORKSHOP 2
CLEARING THE UNDERBRUSH: INNOVATING AND IMPROVING USER EXPERIENCE
Tribunals and Regulatory bodies are meant to provide a faster and less formal means for the participants to address their concerns. However, some participants can find the process confusing and difficult to navigate.
Our speakers will discuss the different ways they have innovated their processes to improve the end user experience. They will share tips, trials, and triumphs based on their efforts to clear the underbrush of the Tribunals and Regulatory processes. This session is a must for executives, decision makers, staff, lawyers, policy makers, and those who support participants through these processes.
MODERATOR: SASHA KIRAN CRAGG-GORE, Commissioner, Canadian Human Rights Commission
SPEAKERS:  
ANITA ASHTON, Deputy Registrar and CEO, College of Physiotherapists of Ontario
KRISTA DIZAZZO, Human Rights Officer, Canadian Human Rights Commission
COLETTE LAROCQUE, Principal of Investigations and Hearings, College of Veterinarians of Ontario
Eligible for 1 hour Professionalism CPD Requirement
11:50- 12:35pm ---L U N C H ----
12:35p.m. – 1:35 p.m.
------AFTERNOON PLENARY------
THE EDGE OF THE WOODS: BEING OF GOOD MIND THROUGH RESPECTFUL INDIGENOUS ENGAGEMENT AND DISPUTE RESOLUTION
SPEAKER: JIM DOXTDATOR, Nibwaakaawin
Nibwaakaawin, which means "wisdom" in Ojibwe, can encourage us to walk a path that nurtures connection and engagement in a respectful way. This session will contribute to greater awareness, cultural understanding and best practices to better inform adjudicators and regulators on how they can bring practical consideration of culturally sensitive First Nations and Indigenous peoples to the practice of administrative justice.
Eligible for 1 hour EDI CPD Requirement
--------------------------------------------------------------------------------------------------------------
1:35p.m.- 2:50 p.m. CONCURRENT WORKSHOPS
WORKSHOP 3
PLANTING THE SEEDS: INNOVATION IN TRIBUNAL OPERATIONS FOR GREATER INDEPENDENCE AND BEST PRACTICES
Operational innovation is the practice of assessing existing processes and finding new ways to improve them. Some of this innovation may be the result of legislative change or through internal policies and practices. This workshop will explore how tribunals and regulators have innovated and enhanced their operations and independence for their tribunal, regulatory, and board functions through:
adopting processes and safeguards to strengthen operations and independence,

rebranding to provide transparency around functions and roles, and

establishing panels with adjudicative and subject matter expertise.
MODERATOR: CAROLYN SLON, Senior Legal Counsel, Governance & Tribunal Secretariat, Ontario Securities Commission
SPEAKERS:
MATTHEW COWLEY, Senior Project Manager, Strategic Protocols and External Relations, City Clerk's Office
GRACE KNAKOWSKI, Corporate Secretary & Director, Governance & Tribunal Secretariat, Ontario Securities Commission
DAVID WRIGHT, Chair, Ontario Physicians and Surgeons Discipline Tribunal
WORKSHOP 4
ADMIN LAW BLAST 2023: RETURN TO OUR BAKER ROOTS
The Supreme Court of Canada's seminal administrative law decision, Baker v. Canada (Minister of Citizenship and Immigration), was heard by Canada's top court 25 years ago. Our expert panel, including Roger Rowe who represented Ms. Baker throughout her legal journey, will discuss the continued significance of the Baker decision, as well as other important administrative law decisions released in the past year.
Join our two experts who will share their insights into key developments impacting administrative justice, as well as practical tips for successfully responding and implementing these changes.
MODERATOR: MICHELLE ALTON, Deputy Director, Court Services Division, Ministry of the Attorney General
SPEAKERS:
ROGER ROWE, Roger Rowe Law
MARK MANCINI, PhD Candidate, Allard School of Law (University of British Columbia), Author Sunday Evening Administrative Review
2:05pm-3:05pm AFTERNOON BREAK
3:05pm-4:35pm
---------------CLOSING PLENARY------------
THE IMPACT OF AI ON ADMINISTRATIVE JUSTICE: ARE THESE TREES FAKE?
Artificial intelligence ("AI") has emerged from the realm of science fiction and entered the reality of the everyday. From Alexa and Siri to Chat GPT and Bard, "intelligent" algorithms have become commonplace tools used in many contexts, with their strengths and shortcomings often drawing public scrutiny. But what exactly is AI and what impact does it have on administrative justice? This session will provide a basic primer on AI, including issues such as the impact of AI tools and predictive analytics on decision-making and decision writing, algorithmic transparency and bias, and legal and ethical considerations when balancing AI and human expertise. The session will kick off with a live demonstration of AI technology and continue with a robust examination of the present and potential future of AI in administrative justice.
MODERATOR: ERIC BRUCE, Director Registration and Professional Conduct, College of Dental Hygienists Ontario
SPEAKERS:
ABDI AIDID, Assistant Professor, Facuty of Law, University of Toronto
JENNIFER RASO Assistant Professor, Faculty of Law, McGill University
TERESA SCASSA Canada Research Chair in Information Law and Policy and Full Professor Faculty of Law, University of Ottawa
Eligible for 1 hour Professionalism CPD Requirement
-----------------------------------------------------------------------------------------------------------------------
4:35pm-6:00pm
NETWORKING RECEPTION
Register here Don't delay. Registration is limited
When
November 2nd, 2023 from 8:30 AM to 4:30 PM
Location
Chelsea Hotel




33 Gerrard Street West




Toronto

,

ON

M5G 1Z4




Canada
Event Fee(s)
| | |
| --- | --- |
| Individual fee $495.00 plus HST | CA$559.35 |