SOAR's 31st Annual Conference 2019 - Strengthening the CORE: FUNdamental Concepts and Skills
SOAR's 31st Annual Conference 2019
Strengthening the CORE: FUNdamental Concepts and Skills
Thursday November 7, 2019
Toronto Marriott Downtown Eaton Centre Hotel, Toronto
Early Bird Registration ($450 plus HST) still available.
9:00am Welcome from Conference Co-Chairs
CAROLINE KING, Vice-Chair, Assessment Review Board, ELTO
CYNTHIA PAY, Member, Immigration and Refugee Board Canada
9:10am TRADITIONAL OPENING CEREMONY AND WELCOME - JOANNE DALLAIRE, LL.D., Elder
9:15-10:15am MORNING PLENARY Fundamentals of Self-Care: Using mindfulness to successfully navigate work and life challenges in today's administrative law world.
10:30-11:45am Concurrent Morning Workshops
Loose Canons: Taking a Shot at Statutory Interpretation

MODERATOR: VOY STELMASZYNSKI

, retired Solicitor, OLRB SPEAKER: PROFESSOR RANDAL GRAHAM, University of Western Ontario, Faculty of Law
Telephone Talk: Adaptive Approaches to Early Resolution

MODERATOR: CECILE LANDON,

Dispute Resolution Officer, Landlord and Tenant Board, Tribunals Ontario SPEAKERS: CAMERON VALE, Nurse Investigator /Mediator, College of Physicians and Surgeons Ontario (CPSO); CINNIE NOBLE, Lawyer /Mediator; JEANIE THEOHARIS, Vice Chair, License Appeal Tribunal, Tribunals Ontario
Enhancing Regulators' Transparency-Open Data, Social Media and more... MODERATOR: PREEYA SINGH,

Director of Professional Conduct and General Counsel CASLPO,

SPEAKERS: CRISTINA de CAPRIO, Lobbyist Registrar, City of Toronto; MICHAEL SALVATORI, CEO/Registrar, Ontario College of Teachers; ANNETTE MCKINNON

, Patient Advisors Network
11:45-12:30pm LUNCH
12:30-1:45pm Concurrent Afternoon Workshops
Meeting Client and Stakeholder Needs on the Frontlines - Practical Tips for Addressing Conflict and Crisis

MODERATOR: GRACE KNAKOWSKI,

Secretary to the Commission, Office of the Secretary, Ontario Securities Commission,

SPEAKERS: JUDY TSAO, Outreach Counsellor, Parkdale Community Health Centre; LUKE BROWN, Interim Director, Ombudsman Toronto, ELAINE STONE

, Manager Investigations and Resolution, College of Physicians and Surgeons
Decision Writing: Top Tips and Tackling Common Road Blocks MODERATOR: ANSHUMALA JUYAL,

Senior Counsel, Legal Services, Immigration and Refugee Board of Canada

, SPEAKERS: TIM MOSELEY, Vice-Chair, Ontario Securities Commission; SUSAN OPLER, Ombudsman, Ombudsman Toronto; JENNIFER KHURANA

, Vice-Chair, Canadian Human Rights Tribunal
Admin Law 2019: (R)evolution? MODERATOR: MAUREEN CARTER_WHITNEY,

Member, Condominium Authority Tribunal,

SPEAKERS: MICHELLE ALTON, Tribunal General Counsel, Workplace Safety and Insurance Appeals Tribunal; MICHAEL FENRICK, Partner, Paliare Roland; AUDREY MACKLIN,

Professor & Chair in Human Rights Law, University of Toronto, Faculty of Law
11:45-12:30pm LUNCH
2:00-3:15pm AFTERNOON PLENARY Balancing Justice: Assessing Credibility and Evidence
MODERATOR: JAY SENGUPTA, Human Rights Commissioner, Peel District School Board SPEAKERS: MARK J. SANDLER, Senior Partner, Cooper, Sandler, Shime & Bergman LLP; JUSTICE WILLIAM LEMAY, Superior Court of Justice
3:25-4:30pm CLOSING PLENARY: Making Sense of the Successes and Failures of Human Memory
MODERATOR: CAROLYN SLON, Senior Legal Counsel, Ontario Securities Commission SPEAKER: PROFESSOR STEVE JOORDENS Ph.D.,
Professor of Psychology, University of Toronto Scarborough
4:30pm Networking Reception
The SOAR 2019 Conference Committee have developed the above workshops and plenaries for the conference day. As is SOAR's custom, the committee has ensured that there sessions for both new and seasoned adjudicators and regulators as well as for staff and counsel. Stay tuned to this page for future updates!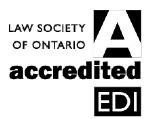 Please check back for program updates and schedule changes.
Please note that all registrations are firm. No refunds are permitted for cancellations. No sharing of registrations are permitted.
When
November 7th, 2019 8:00 AM through 5:00 PM
Location
The Marriott Downtown Eaton Centre Hotel




525 Bay Street




Toronto

,

ON

M5G2L2




Canada