Difficult Conversations: Dealing with micro-aggressions
Difficult Conversations: Dealing with micro-aggressions
Thursday September 27, 2018
9:00 am - 12:15pm
The Law Society of Ontario, Upper Barristers' Lounge,

Toronto, ON
Facilitator: Sarah Neville, Openline Communications
Fee: $150.00 plus HST = $169.50
Registration Now Open
In the wake of the #metoo movement, many organizations are placing renewed scrutiny on what it takes to build a workplace that is respectful and inclusive. This can start with gaining an understanding of unconscious bias and its role in micro-aggressions.
This session explores what micro-aggressions are, and how to address them in the workplace. Revisiting the content from the popular "Difficult Conversations" SOAR workshop, this interactive session will provide hands-on practice in dealing with these uncomfortable interactions.
You'll learn:
What is a micro-aggression?

The role of unconscious bias

How to separate intent from impact

The difference between feedback and criticism

How to apply a four step process for tackling the conversation

The power of empathy in managing resistance
DON'T MISS OUT! REGISTRATION IS LIMITED
SPEAKER BIO
From the front line to the C-suite, Sarah Neville helps organizations in virtually every sector - from small non-profits to Fortune 500 companies - to connect, inspire and drive change through powerful communication.
A sought-after speaker at conferences and events across North America, Sarah shares her deep knowledge of business communications with expertise in diversity and inclusion, with a particular focus on gender balance in organizations. She combines current research with irreverent humour to create an engaging and experiential and approach to learning.
Founding partner and Director of Open Line, Sarah has an M.Ed in Adult Learning from OISE and a background as a professional actor. She was a co-creator of the acclaimed Voices of Young Women program in partnership with the Ontario Arts Council and Toronto District School Board. Sarah is an instructor at the Rotman school of Business Executive Programs, and a regular contributor to the Globe and Mail, the Toronto Star, and the Huffington Post.
This program contains 2 Hours Professionalism and 1 Hour Equity, Diversity and Inclusion (EDI) CPD.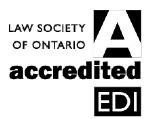 Please note that all registrations are firm, No refunds are permitted for cancellations
Why SOAR
SOAR is a volunteer organization comprised entirely of members of the administrative justice community, whose mission is to promote administrative justice through education, advocacy and innovation. For more information, contact us at information@soar.on.ca
---
This workshop is brought to you by SOAR's Administrative and Management Network (S.A.M.N.). S.A.M.N is a standing committee of SOAR whose purpose is to create a communication network of administrative/operational and management staff of agencies, boards and commissions, dealwith operational program and policy issues at the administrative level and share knowledge, tools, program templates, best practices, strategies, and other resources through meetings, events, "tool kits", websites, documents and various educational opportunities.
When
September 27th, 2018 9:00 AM through 12:15 PM
Location
The Law Society of Ontario (Upper Barrister's Lounge)




130 Queen Street West




Toronto

,

ON




Canada
Registration Fee
$150 + HST
$ 150.00

+ $ 19.50 HST